Trip Introduction: 19 Days Rara Lake to Khaptad National Park Trekking.
Rara Lake Khaptad National Park Trekking, a combination of photogenic areas around Nepal Far and remote Western Himalaya. This whole adventure is more of an exploration rather than normal trekking, as this region is least ventured by foreign travelers. Where Trekking Planner Nepal has set and designed this wonderful adventure for people. Who are interested and in search of fresh virgin country of Himalaya, to be away from mainstream and popular adventure destinations.
Rara Lake and Khaptad National Park Trekking will be the right and perfect choice for adventurers. Be the first few foreign visitors to set foot on these new fresh trails, within absolute wilderness. On this remote part of far western Nepal, where only some local often walks for trade. As well as to be in part of festival events and to rejoice with friends and family.

This marvelous adventure starts heading towards the famous Rara Lake, the largest and deepest high altitude lakes of the country. Located on most scenic picturesque landscapes surrounded by green rolling hills and a range of towering snow-mountains with serene alpine woodland.
A swift scenic flight from Kathmandu takes you to Nepal Far South West, at Nepalgunj City Airport. A connecting flight brings you to near Rara national park at Talcha small airstrip, where our adventure begins.
A wonderful walk-in tranquil surroundings, heading through the cool shade of the forest to enter Rara National Park. The smallest park of Nepal, with an area of 106 sq. km enriched with exotic flora and fauna. Which is rarely found in other parts of the world with various species of plants and wildlife.
Walk takes you right on the shore of the country's largest Lake that covers the water surface at 10. 8 sq. km. Located at the height of 2, 990 m high encircled by marvelous scenery of rolling hills and views of snow-clad peaks.
Truly a haven and a paradise for nature lovers, to experience beautiful Rara Lake and its pristine surroundings. Spending pleasant scenic moments our next adventure takes you further west to Khaptad National Park.
Where journey takes you off the beaten tracks, where western travelers hardly venture and explore around this remote location.
Walk takes you through lovely villages with nice tended farm terraces, as walk heads with climb to reach higher ridge. Overlooking grandeur scenery of stunning landscapes with views of Api and Shaipal Himal, the highest mountain range of Far West Nepal.
As adventure progress walking ups and downhill with glorious views to reach at Khaptad National Park, which was established in 1984. This scenic and amazing country was first pioneered by a Hindu hermit named Swami Sachchid Ananda, later famously known as Khaptad Baba. Spent most of his life on this serene and scenic location making it a holy hermitage and meditation spot.
Khaptad National Park, hardly foreign travellers visits due to its remote position, and access towards this wonderful site.
Khaptad area a natural garden enriched with rare herbs and indigenous plants, as well as an excellent habitation for wild mammals. Includes 270 species of birdlife, located at the height of 3, 000 m high. From early spring and late autumn to winter covered in snow most of the seasons. March to May best time to visit when wild-flowers are in seasonal bloom, the green valley blanketed by various miniature flowers. Makes the valley a unique and awesome place to enjoy your stay at Khaptad valley and its scenic park.
After a great glorious time around beautiful Himalayan destinations of Rara Lake and Khaptad. Return journey takes you to nice farm villages and towns for an exciting drive to reach the warm south of western Nepal. Where a scenic, sweeping flight brings you to Kathmandu, after a most memorable journey of a life-time experience on Rara Lake Khaptad National Park Trekking.
Why Rara Lake to Khaptad National Park Trekking?
If you go and search for the reason on why you need to visit Nepal, there are numerous reasons why you should do the trek. One of them is Rara Lake to Khaptad National Park Trekking.Here are a few of the most well-known.
To Experience the Splendor of Wilderness of Nepal: The Rara Lake to Khaptad National Park Trek takes you through some of most scenic and inaccessible areas. Snow-capped mountains, verdant woods, and dazzling lakes await you. Khaptad National Park is home to a variety of endangered wildlife, including snow leopards, bears, and red pandas. You may encounter the endangered animal on the way to trek.
To Experience about Nepalese Culture: The trip takes you through numerous communities, allowing you to learn about the local culture and way of life. You'll meet locals and enjoy their hospitality.
To Challenge Yourself: The Rara Lake to Khaptad National Park journey is a challenging journey that takes you through the remote area of Nepal. You will pass throught the difficult terrian, unexplored landscapes. The sense of success you'll feel after you finish is unbeatable.
To Get away From Everything: If you want to get away from the rush and bustle of everyday life, the Rara Lake to Khaptad National Park Trek is ideal. Nature and peace and quiet will surround you.
Tips and Tricks for the Preparation of Rara Lake to Khaptad National Park Trekking?
The Rara Lake to Khaptad National Park journey is a difficult but rewarding journey. The journey takes you through a range of environments, including forests, mountains, and meadows. The walk is also an excellent way to push yourself and become in shape.
Here are some pointers to help you prepare for your Rara Lake to Khaptad National Park Trek:
Get in Shape.
Pack the Necessary Gear.
Learn about the Trek.
Mental Preparation.
Consult with your Doctor if you have any Health Related Issues.
Hire a Guide and Porter.
Learn about the locals and their Culture.
Drink Plenty of Water.
Here are some more tips that might be useful:
Begin your journey early in the morning, when the temperature is normally cooler, and you will have the rest of the day to explore. Also, in the morning time you won't have heat stroke? The weather gets clear with the stunning views, enough time to explore the surrounding.
Take frequent breaks. Don't try to push yourself too much. Take frequent stops for rest and replenishment. You might have trouble breathing if you rush. You can also take a short break to drink water.
Be Aware of The Altitude: The trek takes you to high altitudes, so it's important to be aware of the risks of altitude sickness. If you start to feel symptoms of altitude sickness, descend to a lower altitude immediately. Also, if you feel you have some unusual symptoms, you need to inform your guide or your office representative as soon as possible. Also, you should not rush on the trail and take frequent breaks to rest.
Enjoy the Journey: The Rara Lake to Khaptad National Park Trek is an amazing experience that you'll never forget. Take your time and enjoy the scenery, the culture, and the people.
Here are some more suggestions that you might find useful:
Do Your Homework: There are a variety of materials accessible online and in libraries to help you learn more about the walk, including as guidebooks, websites, and blogs.
It's essential to be ready for everything because the weather in the mountains might change suddenly. Layer your clothing so you can adapt to the changing weather.
Bring a first-aid kit: Whenever you embark on a hike, it's a good idea to pack a first-aid kit. You can use this to treat minor diseases and injuries.
The Rara Lake to Khaptad National Park Trek is located in a remote and delicate area, so please respect the surroundings. Respecting the environment and leaving no trace are important.
Best season to trek to Rara Lake to Khaptad National Park Trekking.
The perfect time to travel from Rara to Khaptad for Trekking is generally during the months of Autumn (September to November) and Spring (March to May). These seasons offer the most favorable weather conditions and beautiful landscapes, making them ideal for trekking in the region. If you are still planning for the time period and confuse with the perfect time to visit, these season are ideal for you.
Autumn (September to November): Autumn is regarded as the ideal season for trekking from Rara to Khaptad. With sunny skies and comfortable temperatures, the weather is generally stable. Beautiful views of the mountains and the surroundings are available at this time. However, you need to be more alert regarding the crowd, as you might face huge crowd due to the peak season. This helps you interact with the people of different ethnic group, different country and their culture.
Spring (March to May): Spring is another fantastic time to hike from Rara to Khaptad. In contrast to the fall season, the weather is still pleasant with temperate temperatures, and the trails are typically less busy. Rhododendrons and other vibrant flowers emerge throughout the spring, enhancing the splendor of the trekking adventure.
It's important to keep in mind that Rara and Khaptad are located in western Nepal, which has a different climate than the more well-known trekking areas like the Everest and Annapurna highlands. Before making travel arrangements, it's a good idea to check the weather forecast and speak with nearby trekking organizations to get the most recent information.
Speciality of Rara Lake to Khaptad National Park Trekking?
Trekkers can have a distinctive and off-the-beaten-path experience on the Rara to Khaptad Trek. The following are possible justifications for choosing this trek:
Natural Beauty: The path passes through some of the most unspoilt and beautiful natural settings of western Nepal. The largest lake in Nepal, Rara Lake, relaxes inside Rara National Park and provides stunning vistas of the surrounding snow-capped peaks. Ganesh Himal 7,134 meters, Api Himal 7,132 meters, Saipal Himal 7,031 meters, Kanjiroba South 6,883 meters, Kanjiroba North 6,949 meters, Nalakankar Himal, Dhaulagiri 8,167 meters, Annapurna 8,091 meters, Machhapuchhre 6,993 meters, Hiunchuli 7,246 meters and dense forest. In addition to rhododendron woods, wildflowers, and a diversity of species, Khaptad National Park is renowned for its diverse flora and fauna.
Remote and Less Congested: The Rara to Khaptad trekking trail seems to have less number of people than major trekking destinations like Everest and Annapurna, offering a more sedate and tranquil experience. This journey is a great option if you want a less crowded, more sedate hike where you can fully appreciate nature. Also, the trekking trail offer you unspoiled landscape away from the rush and bustle of everyday life.
Cultural Exploration: The walk provides a chance to get to know the distinct local customs and cultures of western area of Nepal. Visit traditional villages, engage in community interaction, and get knowledge of the local culture, including their festivals, farming practices, and religious traditions. You especially meet Tharu, Gurung, Newar, Magar, Chepang and so on.
Wildlife and Bird Watching: A vast diversity of wildlife, including musk deer, Himalayan black bears, red pandas, and many bird species, can be found in Rara National Park and Khaptad National Park. This walk provides many opportunity to observe and enjoy biodiversity if you are interested in wildlife and bird watching.
Overall, the Rara to Khaptad trip appeals to trekkers looking for a distinctive and fulfilling experience in Nepal because it combines spectacular scenery, cultural immersion, and a sense of adventure in a less crowded and off-the-beaten-path location.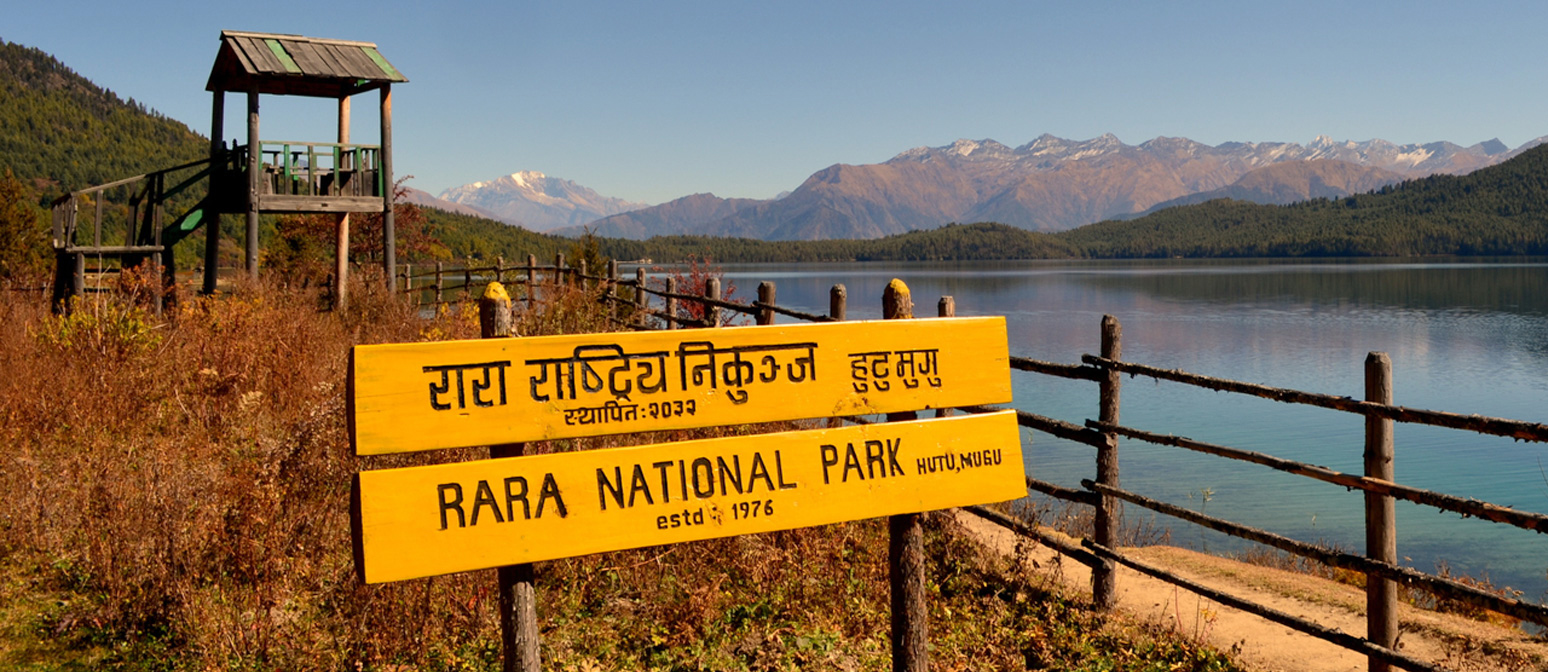 Climate and Weather of Rara Lake to Khaptad National Park Trekking.
According to the time of year and altitude, the temperature along the Rara to Khaptad trip can change. The temperature range you can anticipate during the various seasons is as follows:
Autumn (September – November).
Around Rara Lake, temperatures during the day at lower elevations can range from 15 to 25 degrees Celsius (59 to 77 degrees Fahrenheit).
Temperatures can drop significantly at higher elevations, particularly in Khaptad National Park, where nightly lows of 0 to 10 degrees Celsius (32 to 50 degrees Fahrenheit) are not unusual.
Spring (March to May).
Lower altitudes have generally comfortable daytime temperatures, which can range from 15 to 25 degrees Celsius (59 to 77 degrees Fahrenheit).
In order to adjust to changing weather conditions as you climb to higher elevations, it is advised to wear layers of clothing.
Higher elevations might still have chilly nights with lows of 5 to 15 degrees Celsius (41 to 59 degrees Fahrenheit).
Winter (December to February).
During the winter, the region experiences cooler temperatures, especially at higher elevations.
At lower altitudes, daytime temperatures can range from 41 to 59 degrees Fahrenheit (or 5 to 15 degrees Celsius).
Nighttime lows can range from -5 to 5 degrees Celsius (23 to 41 degrees Fahrenheit) or lower in higher heights and even at lower altitudes.
Summer/Monsoon (June to August):
Lower elevations can see daily temperatures of 20 to 30 degrees Celsius (68 to 86 degrees Fahrenheit) during the summer or monsoon season.
Temperatures at night could stay warm, averaging between 15 and 20 degrees Celsius (59 and 68 degrees Fahrenheit).
During this time of year, humidity levels can be high, which can make it feel hotter than it actually is.
It is important to remember that this time of year experiences heavy rainfall, which can influence trail conditions and make the journey more difficult.
The journey might vary due to the location and period of time. Also the altitude of the mountains changes anytime, so you need to be more alert regarding the climate.
Washing, Toilet and Accommodation on the way to Rara Lake to Khaptad National Park Trekking.

Washing:
Basic washing facilities are typically available in lodgings like guesthouses, teahouses, or lodges. These facilities often provide shared bathrooms with flowing water where you can wash your hands or take a shower in a bucket. But for hot shower you might charge extra fee.
In certain isolated places, washing facilities may be limited, and you might need to rely on natural water sources like lakes or rivers for washing purposes. Hot water may or may not be available, and it is sometimes given at an additional expense. But it is important to use biodegradable soap and to practice environmental conservation.
Toilet Facility.
Shared restrooms are available at most guesthouses, teahouses, and lodges throughout the route. These are often squat toilets, and toilet paper is not always available. It is a good idea to bring your own toilet paper or tissues.
You may need to use simple pit toilets in more distant regions. These are just excavated holes in the ground that may or may not contain running water or flush devices. It is essential to practice proper hygiene and responsible waste disposal.
Accommodation.
Along the walk, you'll find a variety of lodging alternatives, including guesthouses, teahouses, and lodges in villages or towns. These establishments provide basic yet comfortable lodging in the form of rooms or dorms for overnight stays. The lodgings can range from simple rooms with beds to more luxurious accommodations with associated bathrooms. Keep in mind, however, that the degree of comfort and amenities may diminish as you travel to more rural places.
For enhanced comfort and cleanliness, bring a sleeping bag, especially if you plan on staying in more basic accommodation.
It is important to remember that the availability and quality of amenities might change from season to season and year to year. It is always a good idea to be prepared, bring essential items, and keep your expectations flexible.
Why Trekking Planner Nepal?
Trekking Planner Nepal is a legally registered trekking agency operated by well-experienced and well-trained personnel for the past two decades. Here are some reasons why you should choose Trekking Planner Nepal for your Rara to Khaptad National Park trek:
Experience: Trekking Planner Nepal has been planning treks in Nepal for more than 20 years. We have a staff of professional guides and porters that can assist you in planning and carrying out your trek in a safe and simple manner.
Expertise: Trekking Planner Nepal has extensive knowledge of the Rara to Khaptad National Park Trek. We can advise you on the best route based on your fitness level and interests.
Flexibility: Trekking Planner Nepal is flexible and can tailor a trek to your individual requirements. We can organize private transportation, lodging, and food.
Value: Trekking Planner Nepal provides exceptional value for money. Our costs are reasonable, and they provide a number of discounts and bundles.
Trekking Planner Nepal is the ideal option for you if you want a safe, pleasurable, and inexpensive trek.
Peace of Mind: Trekking Planner Nepal handles all of the logistics of your trek, allowing you to rest and enjoy the experience.
Trekking Planner Nepal is always accessible to answer any inquiries or address any concerns you may have.
Trekking Planner Nepal is a family-owned and run company. They treat their customers like friends and are always eager to assist you in having a pleasant experience.
Important Note.
This trip departure every day of the year.
This trip is fully customizable. We can customize the trip as per your need, please contact us.
This trip is available on both Fixed Departure and Private Group Basis.
This trip can be booked privately if you're travelling solo or private or with family.
Have a big group? We can help as per your needs.
We can help you make it fit your budget.
we accept instant booking and online payment.