Trip Introduction: Gosainkunda Short Trekking 2023/2024 - 8 Days
Gosainkunda Short Trekking 2023/2024 takes you to high areas of Nepal Central Himalaya, located straight north of Kathmandu Valley within the Langtang Himal Range of Rasuwa district, regarded as the holiest of holy spots in all Himalaya regions.
Gosainkund Short Trekking is a short adventure where you will be in a tranquil wilderness of high hills facing stunning views of a mountain range from Langtang-Ganesh-Jugal Himal as far towards Manaslu Range and Annapurna Range within the western direction.
Gosainkund Short Trekking begins with an exciting overland journey from Kathmandu to reach cooler areas at Dhunche the headquarters and administrative town of Rasuwa District and Langtang Himal Region, home to indigenous Tamang Tribes the hill people of Himalaya.
Where walk leads to a steep climb within serene woodland of tall rhododendron-magnolia-oaks-pines and fir trees to reach a small village at Singh Gompa also known as Chandanbari (Sandal-wood), from here heading much higher to cross over Laurabinayak ridge with an awesome panorama of peaks then reaching sacred Gosainkund.
A famous pilgrimage site where Hindu followers visit for ritual bathing and dip in the icy pond, where belief delivers one into paradise and drink of its holy water relinquishes the sins of a hundred lifetimes, the pond with myth and history.
Around this sacred pond of Gosainkunda, where a great festival is held once a year during the auspicious time of Janai Purnima (Full Moon) in August, as per the Hindu Lunar calendar, according to another popular belief, a huge rock at the center of the pond remains hidden Shiva temple, at Gosainkunda enjoy the peaceful surrounding within great holy spirits site.
Enjoying perfect wilderness and pleasant scenic moments head downhill towards Dhunche past Sing Gompa for an interesting drive back to Kathmandu, after a remarkable experience and adventure on Gosainkunda Short Trekking.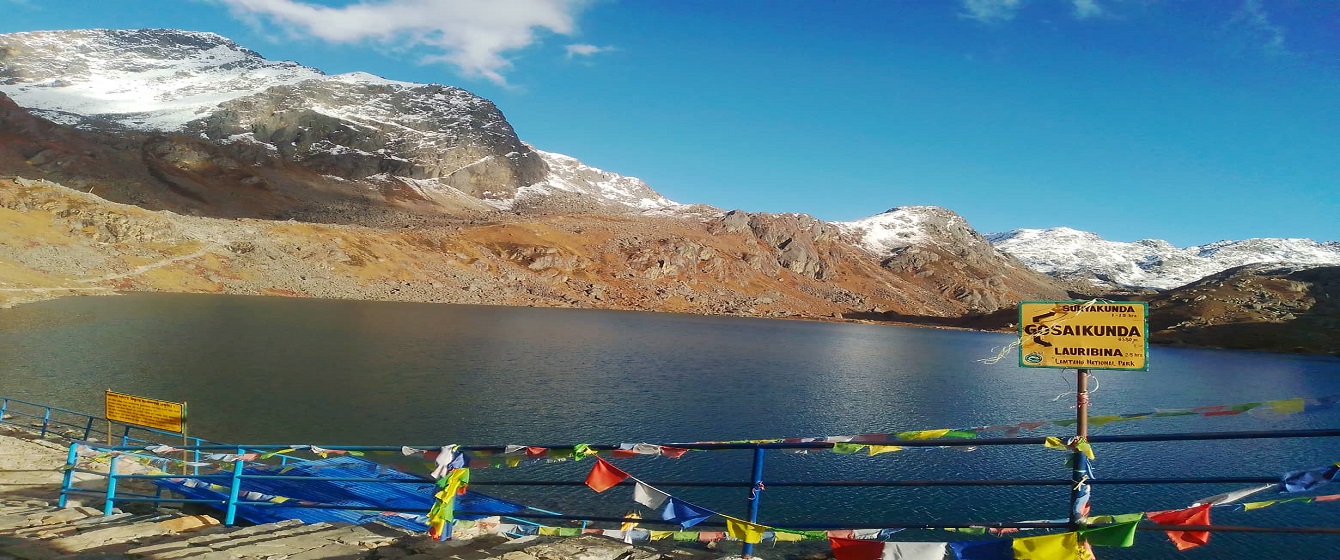 Why 8 Days Gosaikunda Short Trekking?
The Gosainkunda Short Trek is a popular trekking route in the Langtang Region of Nepal. This trek is preferred by many trekkers because it provides a good balance between the time required to complete the trek and the opportunity to experience the stunning beauty of the Langtang Region.
On the way to the trek, you will walk through deep forests, picturesque landscapes, and remote areas with amazing views of the Himalayas. You will also be able to explore the distinct culture and way of life of the local communities of the particular region. The trek offers adequate time to enjoy the natural beauty and cultural experiences without feeling rushed.
Overall, the 8-day Gosainkunda Trekking is an excellent option for all those who wish to see the grandeur of the Langtang Region and the sacred Gosainkunda Lake.
Is 8 Days Gosaikunda Trekking Right for you?
The Short Gosainkunda Trek is appropriate for persons with moderate fitness, previous trekking experience, and adequate time to complete the climb comfortably. The trek requires walking for several hours each day, with some steep ascents and descents, so physical endurance and stamina are required.
It is essential to keep in mind the altitude. As the trek leads to the highest point of the trek is 4,336 meters above sea level, it might trigger altitude sickness in certain people. As a result, it is essential to allow enough time for acclimatization and to stay hydrated throughout the trek.
If you have any health problems or concerns, you ought to consult with your doctor before beginning on the walk. It is also recommended to book the trek through a registered trekking company, which can provide professional guides, porters, and medical help if needed.
In summary, 8 Days Gosainkunda Journey is suitable for individuals with a moderate degree of fitness, some previous trekking experience, and enough time to complete the walk comfortably, as well as those who have spoken with their doctor and booked the trek through a registered trekking organization.
Best Seasons for 8 Days Gosainkunda Trekking.
The best seasons for this wonderful adventure from mid-spring and autumn times. From April to May and September to the second week of December months. April and May are lively seasons, days are clear for views and walks but can get colder by late afternoon till night and morning times. The next best season is September to the second week of December, days are bright with crystal clear blue sky. However, colder mornings and nighttime can expect snow sometimes during the walk to Gosainkund Trekking.
Climate and Weather during 8 Days Gosainkunda Trekking.
Climate and Weather, depending upon seasonal wise around mid-spring the weather is fine and clear with more bright sunny days. Can get colder in the late afternoon, and night as well in the early morning before the sun reaches the lodge to stay overnights. The temperatures of minimum -05 degrees Celsius to a maximum of + 20 and above.
High altitude gets bright sun with strong UV, trekkers need sunscreens and sun hats. September to early November is bright and beautiful, although the sun reaches late due to the autumn season. However, the day is fine and clear, quite a windy afternoon, cold in the night and morning time.
Minimum temperatures of -10 degrees to maximum + 20 degrees, the sunlight is shorter during autumn and gets dark soon by 6 p.m.
Washing, Toilets and Accommodation during 8 Days Gosaikunda Trekking.
During the Gosainkunda trekking, you will stay in tea houses, which are simple lodges that provide lodging, meals, and some basic amenities.
Washing: Normally, most tea houses and lodges provide basic washing facilities such as a bucket of hot water and soap for cleaning your face and hands. Some tea houses also provide a shower for an extra fee, but availability and quality may vary. So, it is suggested you bring sanitizers and face wipes as you may lack water in some areas.
Toilets: The toilet facilities available in tea houses are simple and normally they consist of a squat toilet. As toilet paper may not be available always, it is best to carry your own. It is also essential to properly dispose of toilet paper, as the plumbing in the tea houses may not be capable of handling it.
Accommodation: The tea houses provide basic lodging, including a bed and a blanket. As you rise to high elevation, the blankets may not be sufficient for you. So, for your warmth and comfort, you are advised to carry your sleeping bag. Sometimes in the peak season, you might have to share your accommodation with other trekkers, but Trekking Planner Nepal helps you with the pre-booking of your accommodation after you confirm your booking.
Is Travel Insurance Required for a short trel to Gosaikunda ?
Trekking Planner Nepal strongly advises and recommends all clients to purchase Travel as well as Medical Insurance against unforeseen circumstances that might arise or occur during your Himalayan holidays, Travel and Medical Insurance should be obtained through World Nomads Travel Insurance for your upcoming holiday in Nepal Himalayan destinations.
All our hikes, trekking, and tour programs with itineraries where accommodations are all set in respective Hotels/Lodge/Home Stay, Guest House, and Resorts even camping in some remote areas as per the set program itinerary. Some days could be longer or shorter depending upon the fitness of the clients, availability of vehicles on time, flight delay, cancellation, unfavorable bad weather, and roads or trail conditions. Trekking Planner Nepal requests Clients on booking to acquire Travel and Medical Insurance compulsory when undertaking any tour and trek. It should include adequate protection for tour/treks duration to cover personal injury, death, medical expenses, and repatriation expenses in any means of transportation on emergency evacuation such as helicopter rescue, air ambulance, and adequate cover for baggage.
In this situation, your selected and chosen tour destination may differ from the program itineraries. In rare cases, we might even have to reroute or cancel the trips as per the political, riot, bad weather, broken road or trail condition, and porter's situation and condition. The company has the right to cancel the trips due to unavoidable conditions beyond our control including if the volume of travelers is less than expected as per the trips selected. In this case, please bear with us we will try our best to adjust the itinerary trips as best as possible for your convenience.
Altitude Sickness During 8 Days Gosaikunda Trekking.
Altitude Sickness can affect anyone. At high altitudes, the decrease in atmospheric pressure makes breathing difficult due to less oxygen. Mainly, it happens above 3300m (10,000ft). Signs and symptoms are as follows:
Headache/Dizziness.
Nausea/vomiting.
Tiredness/Fatigue.
Sleepy but can't sleep.
Loss of Appetite.
Prevention for this is to dress warmly as per weather conditions, drink plenty of water, eat well, and walk slowly. It is a good idea to climb higher than you sleep. Keep hydrated and make sure you avoid alcohol.
Internet, Electricity and Battery Charge during Gosaikunda Trekking.
The accessibility of the internet, electricity, and battery charge depends on the location, season, altitude, and the lodges.
Internet: Internet access is usually provided in all tea houses. While some tea establishments may have Wi-Fi, it may be slow and unreliable. As a result, it is advised to carry a local SIM card with a data plan. Some tea houses may provide the Wi-Fi facility but take extra charge for the use of the internet.
Electricity: The tea houses along the Gosainkunda Trekking trail may not have consistent power, and power outages are common. As a result, it is advised to pack a portable power bank to keep your electronics charged. Some tea establishments may also provide charging facilities for an extra fee, but their availability and quality may vary. You are also requested to carry a headlamp as you may require it during the nighttime.
Battery charge: The charging spots are available in the tea houses but they charge an extra amount for charging. You are advised to bring backup batteries or a power bank to keep your camera and other electrical gadgets charged. It is also essential to save battery power by turning off superfluous functions and leaving your devices in airplane mode when not in use.
In conclusion, while there may be no dependable internet or electricity available throughout the Gosainkunda trip, it is recommended that you bring a local SIM card, a portable power bank, and spare batteries to keep your electronics charged. You may capture and film the gorgeous surroundings and memories of your walk by being prepared and saving battery life
Outline Itinerary- For Short Gosainkunda Trek
Day 1 Arrival in Kathmandu (1350m) and transfer to hotel.
Day 2 In Kathmandu with sightseeing tour and trek preparation.
Day 3 Drive to Dhunche (1,950 m) about 06 to 07 hrs drive hrs.
Day 4 Trek to Sing Gompa-Chandanbari (3,254 m) about 05 hrs walk.
Day 5 Trek to Gosainkund Lake (4,336 m) - 05 hrs.
Day 6 Trek to Dhunche (1,950 m) about 06 hrs and transfer to the lodge.
Day 7 Drive back to Kathmandu afternoon free at leisure.
Day 8 Depart Kathmandu for international flight home-ward bound.
Important Note.
Trip departures are available every day of the year.
This trip is fully customizable. We can customize the trip per your needs, Please contact us.
This trip is available on both Fixed Departure and Private Group Basis.
This trip can be booked privately if you're traveling solo or with your family.
Have a big group? We can accommodate all of your needs.
We can help you make it fit your budget.
We accept instant bookings and online payment