Trip Introduction: Journey to Tibet and Everest Base Camp Tour 14 Days.
Journey to Tibet's North Everest Base Camp Tour, an exciting adventure on top of the world within the highest and largest plateau. Trekking Planner Nepal presents this incredible journey, covering the best of Central Tibet in the close shade of the high Himalayan range. The trip, combined with Tibet and the North Everest Base Camp, which lies on the Tibet side, provides enjoyable moments of a lifetime experience while visiting places of great cultural interest.
This trip leads you from complete wilderness to semi-modern towns and cities, visiting beautiful sites of historical wonder. Tibet's Everest Base Camp is also known as North Base Camp; besides the beautiful scenery of dramatic landscapes of high snow-capped peaks, the adventure takes you to explore Tibet's immense culture.
The major highlights of this beautiful journey are visiting the world's highest peak, Mt. Everest North Base Camp, and the magnificent Potala Palace.
Potala Palace, Tibet:
The Potala Palace is an iconic cultural and architectural marvel in Lhasa, China's capital city of the Tibet Autonomous Region. This majestic palace holds immense historical, religious, and cultural significance for Tibetans and Buddhists worldwide. It is a testament to Tibetan architecture and the region's rich heritage.
The Potala Palace was initially built in the 7th century by King Songtsen Gampo and has since undergone several expansions and renovations. However, the most notable increase occurred during the 17th century, when the fifth Dalai Lama transformed it into the current grand palace. The palace complex consists of two main sections: the White Palace, which served as the administrative and living quarters, and the Red Palace, primarily used for religious ceremonies and housing numerous chapels.
The palace is adorned with intricate murals, sculptures, and artifacts that depict Tibetan Buddhism's spiritual teachings, history, and culture. The stunning panoramic views of Lhasa from the Potala Palace add to its allure. In 1994, the Potala Palace was declared a UNESCO World Heritage Site, recognizing its historical and cultural significance.
Everest North Base Camp, Tibet:
The Everest North Base Camp is a renowned starting point for treks and expeditions to Mount Everest, the world's highest peak. Located in Tibet, the northern base camp offers trekkers and mountaineers an opportunity to experience the awe-inspiring grandeur of the Everest massif up close.
The North Base Camp lies 5,150 meters (16,900 feet) above sea level, making it a challenging and high-altitude journey. The trek to the Base Camp passes through picturesque Tibetan landscapes, including high plateaus, rugged terrain, and serene valleys. Trekkers often encounter the unique culture and lifestyle of the local Tibetan people along the way.
The Everest North Base Camp provides a spectacular view of the northern face of Mount Everest, allowing visitors to witness the sheer magnitude of the mountain. While it involves different technical difficulties than Nepal's more popular South Base Camp, reaching the North Base Camp still requires proper acclimatization and preparation due to the high altitude.
Visitors to both the Potala Palace and Everest North Base Camp are treated to an immersive experience of Tibetan Culture, history, and nature, making these sites destinations of choice for travelers seeking adventure and spiritual enrichment.
Nepal Trekking Planner's fabulous Journey to Tibet and Everest Base Camp starts from Kathmandu with an exciting, enjoyable tour. It allows you to familiarize yourself with Tibetan and Nepalese cultures and Hindu and Buddhist religions.
Where does the trip Begin and End?
From Kathmandu, our overland journey to Tibet starts heading higher, leaving the lush green vegetation and tall tree lines as the drive enters a vast, barren, arid country within the world's highest and largest plateau. The industry takes you to the high pass of Lalung-La, facing a panorama of the great Himalayan range that borders Nepal and Tibet. The world's last 14th-highest mountain, Mt. Shishapangma, can be seen with an array of snow peaks from the past. Ride on a windswept plain to Old Tingri town, located on a roadside with views of Mt. Everest and Cho-Oyu.
Old Tingri is also a gateway to Everest and Cho-Oyo base camps, heading further from Tingri, close to Shegar town. Our route diverts from the leading Tibet-China and Nepal Friendship Highway towards Rongbuk and Everest Base Camp.
An exciting drive reaches you on the top of Pang-La Pass at 5,200 m high and offers a spectacular panorama of the Himalayan range. Enjoy super views of Mt. Everest, Lhotse, Makalu, and Kanchenjunga with Cho-Oyu and Shishapangma with an array of peaks. After overlooking grand views of the world's six highest mountain ranges, head downhill past Tashi Dzong town to the Rongbuk Monastery Area.
Reach our first leading destination and highlight the journey at Rongbuk, where you will treasure excellent views of Mt. Everest. In Tibet, called Chomolungma, with a free day, enjoy a hike to Everest Base Camp and visit the small monastery.
At Rongbuk, with options to walk or ride on horse carts, motorbikes serve as taxis; from here on, private four wheels vehicles are restricted.
Enjoy the fabulous moments of a lifetime at Everest North Base Camp, facing close views of the world's highest peaks. From here, the adventure continues to Lhasa on the same route to join the main Friendship Highway, then reach Shigatse.
Shigatse, the second-largest city in Tibet after Lhasa, is famous for the Tashi Lunpo monastery and its massive religious complex. As well as the holy seats of the great Panchen Lama, ranked next to the Dalai Lama, in Shigatse's tour of interesting sites.
From Shigatse, drive to Gyantse, another central city of Tibet, and visit the prominent landmarks of the Kumbum Pagoda Stupa and other places of interest. The Gyantse journey takes you to our final destination in Lhasa, the fabled capital city of Tibet.
A scenic drive over Simi-La and Karo-La with views of Nzongkhangsa peaks and glaciers that extends near the main highway. As the journey continues past Yamdrok Tso, a beautiful Salt Lake, the word Yamdrok means Turquoise in Tibetan.
The journey heads up to Kongma-La Pass, which rewards a superb panorama of beautiful Tibetan landscapes and high snow peaks. Slowly drive downhill past farm villages and towns to Lhasa, where Potala Palace dominates the city.
On reaching Lhasa, stay in a nice hotel close to the famous and colorful Barkhor market, the main square. In Lhasa, our local Tibetan guide takes you around the most critical sites for which the city is famous.
A tour of large old Drepung and Shera monasteries, including Jokhang Temple, the most senior religious site, includes the magnificent Potala Palace. The most famous landmark of Tibet, perched high above the city, stands majestic with its past historical glories.
After an enjoyable, memorable time in Lhasa and around Tibet, a scenic, panoramic flight brings you back to Kathmandu.
Best Seasons for the Journey to Tibet and Everest Base Camp Tour.
The best times to travel to Tibet and Everest Base Camp are mid-spring and autumn/fall. In Mid-spring, from March to May, when days are clear for views and tours. Morning and late afternoon until nighttime will be cold, with minimum temperatures of 0 to a maximum of 15–20 degrees Celsius. You can expect snow sometime during the drive-in higher areas above 4,000 m, but days are longer with enough sunlight.
Next, the best season is autumn/fall, from September to early November, when days are crystal clear with blue skies but shorter with sunlight hours. Mornings and late afternoons are much colder than at night. Temperatures might drop to -05 degrees sometimes, with a maximum of 15 to 20 degrees Celsius in the afternoon. It's a cold morning and evening but a pleasant day for tours and walks.
Tibet and Everest Base Camp can join from June to August during the monsoon. Also, Tibet falls within a rain shadow, where the great Himalaya Range blocks heavy rain clouds from the south, so the country remains dry with little rain during the monsoon season.
Here is a breakdown of the weather and the climate.
Everest North Base Camp, Tibet:
The climate at Everest North Base Camp depends upon its high altitude and proximity to the Himalayan Mountain Range. The weather can be unpredictable, and conditions can change rapidly. Here's what to expect:
Spring (April–June): Like Lhasa, spring is a popular time for treks to Everest North Base Camp. The weather begins to warm up, and the trekking routes become more accessible. However, temperatures can still be cold, especially at higher elevations.
Summer (July–August): This is the primary trekking season. The weather is relatively stable, and the days are warmer. However, as you gain altitude, the temperatures can drop significantly, and sudden weather changes are possible. Rainfall is less common in this region compared to other monsoon-affected areas.
Autumn (September–October): Like Lhasa, autumn is an excellent time for treks to the North Base Camp. The weather is generally clear and stable, offering fantastic views of the mountains. However, temperatures can be cold, especially at night.
Winter (November–March): Winter at Everest North Base Camp is frigid, with temperatures well below freezing. The trekking routes are less frequented during this time due to the harsh conditions and potential for heavy snowfall.
The Potala Palace is in Lhasa and has a high-altitude, semi-arid climate. The weather can vary significantly throughout the year due to the city's elevation of around 3,656 meters (11,975 feet) above sea level.
Spring (April–June): Spring is a popular time to visit Lhasa. The weather starts to warm up, and the city experiences mild temperatures during the day. However, nights can still be chilly. This season sees relatively clear skies and limited rainfall.
Summer (July–August): Summer is the peak tourist season, but it's also the monsoon season in Tibet. While Lhasa remains relatively dry compared to other parts of the region, there's an increased chance of rain during this time. Temperatures can be pleasantly warm during the day, but nights remain cool.
Autumn (September–October): Autumn is another excellent time to visit. The weather is stable, with clear skies and comfortable temperatures. The days are warm, and the nights are cool, but not as cold as in winter.
Winter (November–March): Winter in Lhasa can be pretty cold, with daytime temperatures often hovering around freezing. Nighttime temperatures drop significantly, and there's a possibility of snowfall. The Potala Palace is open year-round, but winter might not be the most comfortable time to visit due to the cold weather.
Both locations experience significant temperature fluctuations between day and night, so it's essential to pack appropriate clothing and gear to stay comfortable throughout your trip. Additionally, due to the high altitudes, travelers should be mindful of the potential for altitude sickness and ensure proper acclimatization.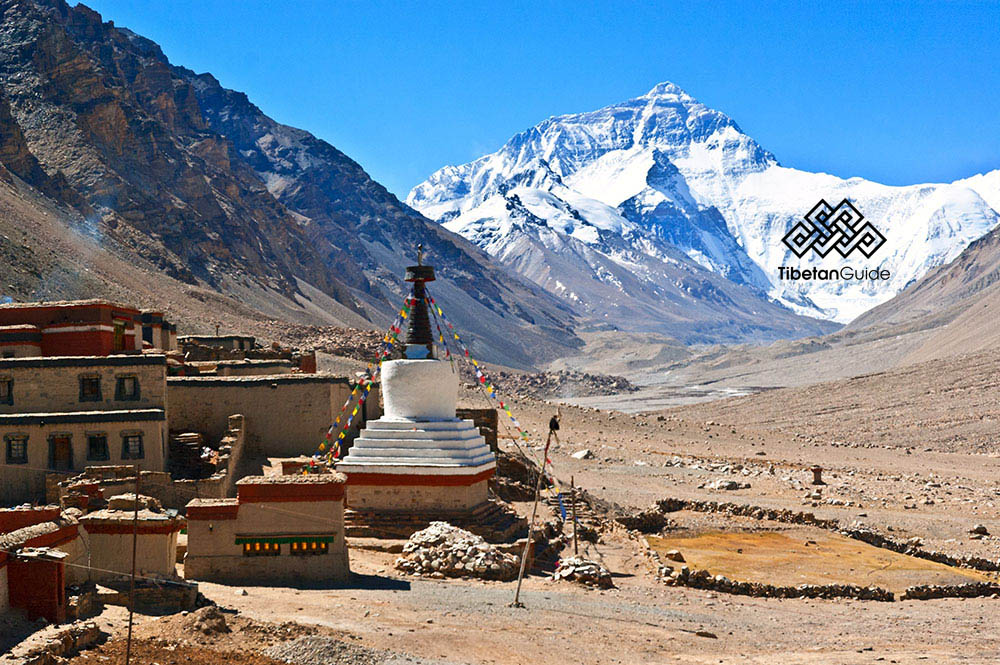 Can we Get Altitude Sickness in Tibet or go Towards the Tibet Everest North Base Camp Trek?
Altitude sickness, or AMS (Acute Mountain Sickness), might occur in some people at higher altitudes than 3,000 m. Taking things slowly and drinking a lot of fluid and water can help overcome high altitude sickness or AMS.
Some can take protective measures using some medicine as directed by a doctor, which prevents and reduces symptoms of AMS and can lower headaches during high-altitude walks and climbs. For people with severe cases and situations of HACE (High-Altitude Cerebral Edema) and HAPE (High-Altitude Pulmonary Edema) where the victim should be brought down to safe and secure places with a medical team or doctors to attend, the fastest means of evacuation is emergency evacuation by any means of immediate and quick transportation where available.
In Tibet, the quickest emergency evacuation is taking an early flight from Lhasa or before Lhasa, hiring a Land cruiser to reach the lower area of Tibet, or heading back to Kathmandu for further treatments. For emergency evacuation, travelers should be well insured with a good Insurance policy covering all medical aspects and use extra private vehicles or other means of transportation.
The Everest Base Camp on the Tibetan (North Base Camp) and Nepalese sides offer different experiences due to access, culture, landscape, and trekking routes. Here's a comparison of the two:
What is the Difference Between the Tibet-North Everest Base Camp and the Nepal-Everest Base Camp?
Tibet Everest North Base Camp:
Access: The North Base Camp in Tibet is generally accessible by road, making it a more straightforward option for travelers who prefer not to trek extensively. This road access allows visitors to drive quite close to the Base Camp.
Altitude: The North Base Camp starting point is higher than the South Base Camp in Nepal. The Tibetan base camp starts at around 3556 meters (16,900 feet) if you start from Lhasa or the altitude of Kathmandu if you fly to Kathmandu and take a drive towards Lhasa via Kerung, which requires careful acclimatization to prevent altitude sickness.
Landscape and Views: The North Base Camp offers spectacular views of the northern face of Mount Everest. The landscape on the Tibetan side is stark and high-altitude, with vast plateaus and rugged terrain, creating a unique and dramatic setting.
Trekking Difficulty: While trekking is less prominent on the Tibetan side, some travelers still need to trek to the North Base Camp. The trek is generally less strenuous compared to the Nepalese side, and there are various options for trekking routes based on your preferences and fitness level.
Cultural Experience: The Tibetan side offers a chance to experience Tibetan culture, as it's part of the Tibet Autonomous Region in China. You can explore Tibetan monasteries, interact with local Tibetans, and immerse yourself in their unique way of life.
Nepal's Everest South Base Camp:
Access: The starting point of South Base Camp in Nepal is accessible after flying to Lukla and then by trekking, which typically takes around 8–12 days, depending on the route. The trekking experience is a significant part of the journey and allows you to acclimate to the altitude gradually.
Altitude: The Nepalese base camp starting point is lower than the North Base Camp, at around 1350 meters. This can be advantageous for acclimatization and reducing the risk of altitude-related issues.
Landscape and Views: The trek to South Base Camp takes you through lush forests, picturesque Sherpa villages, and a variety of terrains. The views of the Everest massif are stunning, and you get a different perspective of the mountain.
Trekking Difficulty: The trek to South Base Camp is considered more challenging due to the longer duration and various terrain types. The trail includes ascents, descents, and some rugged sections.
Cultural Experience: The Nepalese side offers a rich cultural experience, with interactions with the Sherpa community, visits to monasteries, and the chance to explore traditional mountain villages.
Ultimately, the choice between the two base camps depends on your preferences, fitness level, and the type of experience you're seeking. Both sides offer incredible views of Mount Everest and unique cultural interactions but cater to slightly different travel styles.
Why Travel Towards Tibet's North Base Camp and Tibet?
Traveling to Tibet's North Everest Base Camp and visiting the Potala Palace in Lhasa offers a unique and enriching experience for several reasons:
Unique Perspective of Mount Everest: The North Base Camp on the Tibetan side provides a distinct view of Mount Everest's northern face, offering a different vantage point compared to the more commonly visited South Base Camp in Nepal. This view allows you to appreciate the sheer magnitude of the mountain and its surrounding landscape.
Less Crowded Experience: The North Base Camp in Tibet tends to be less crowded than the South Base Camp in Nepal. If you prefer a quieter and more serene environment while still being able to experience the awe-inspiring presence of Everest, the Tibetan side might be more appealing.
Cultural Immersion: Visiting Lhasa and the Potala Palace immerses you in Tibetan culture, history, and spirituality. Lhasa is a center of Tibetan Buddhism and offers the chance to explore monasteries and temples and interact with local Tibetans. As a UNESCO World Heritage Site, in Tibet, the Potala Palace is an architectural masterpiece and a symbol of Tibetan identity.
High-Altitude Adventure: Traveling to Tibet's North Base Camp involves experiencing the challenges and beauty of high-altitude landscapes. It's an opportunity to push your limits and engage in an adventure that takes you to some of the world's highest altitudes.
Scenic Journey: The journey to the North Base Camp and Lhasa is marked by stunning scenery. You'll traverse vast plateaus and rugged terrain and encounter unique flora and fauna adapted to high-altitude environments.
Photographic Opportunities: Both the Potala Palace and the landscapes around the North Base Camp provide incredible photographic opportunities. The architecture, the mountain views, and the cultural elements all offer a wealth of subjects to capture.
Personal Growth: The challenges of traveling to high altitudes, adapting to different cultures, and embarking on an adventure off the beaten path can contribute to personal growth and a sense of accomplishment.
Less Commercialized Experience: As the North Base Camp is less developed in terms of tourism infrastructure compared to the Nepalese side, you might find a more authentic and less commercialized experience.
Spiritual Significance: Both the Potala Palace and the Base Camp areas have spiritual significance. The Potala Palace is a center of Tibetan Buddhism, and the mountains are often considered sacred in many cultures.
Off-the-Beaten-Path Exploration: Choosing the Tibetan side offers an opportunity to explore a lesser-known part of the Everest Region and access areas that tourists less commonly frequent.
Ultimately, the decision to visit Tibet, North Everest Base Camp, and the Potala Palace should align with your interests, travel style, and desire for a unique and culturally rich experience in one of the world's most captivating regions.
What to Expect for the Accommodation: Phone charging, Internet, and Food.
While I don't have real-time information about specific accommodations, facilities, or services provided by "Trekking Planner Nepal" or other specific companies, I can provide you with general expectations for accommodations, phone charging, internet access, and food while trekking to the Tibet North Everest Base Camp and visiting the Potala Palace in Lhasa:
Accommodation: Accommodation in the region can vary depending on the route and location. In Lhasa, you can expect various hotels and guesthouses offering different comfort levels. The accommodations around Everest North Base Camp might be more expensive due to the area's remote nature. While options could include lodges, teahouses, or even tents, they may offer a different level of luxury than hotels in more urban areas.
Phone Charging and Internet: In Lhasa, especially in the more urban areas, you'll likely have access to phone charging facilities and internet services. However, as you move closer to Everest North Base Camp, these amenities may become more limited due to the remote location and higher altitudes. Remember that electricity availability can be sporadic in some areas, and charging may come at an extra cost.
Food: You'll find various dining options in Lhasa, including restaurants serving both Tibetan and international cuisines. As you travel towards Everest North Base Camp, food availability may become more limited and the possibilities more basic. Teahouses and lodges along trekking routes typically provide meals such as dal bhat (a traditional Nepali Dish), noodles, rice, and essential snacks. Due to the higher altitudes, it's vital to stay hydrated and maintain a balanced diet to support acclimatization.
When planning your trip, please inquire with your chosen trekking company or accommodations about the specific amenities they offer. Managing your expectations is essential, especially in remote and high-altitude areas where facilities may be more critical than in urban areas. Packing items like portable chargers, extra batteries, and power banks can ensure you can keep your devices charged.
Remember that conditions can change, and it's always a good idea to check with your trekking company or accommodation provider for the most up-to-date information about amenities and services available during your trip.
Why select Trekking Planner Nepal for this trip?
Expertise and Experience: Trekking Planner Nepal has a proven track record of organizing trips to challenging and culturally significant destinations like Tibet's North Everest Base Camp and Lhasa. With years of experience, we have gained extensive knowledge about the region, ensuring a well-planned and smooth journey.
Local Connections: Our strong network of local guides, porters, and accommodations in Tibet and Nepal ensures an authentic experience. We prioritize working with knowledgeable locals who can provide insights into the area's culture, history, and natural beauty.
Safety and Acclimatization: Safety is paramount. We have a detailed acclimatization strategy to gradually help you adjust to high altitudes. Our team is trained to recognize signs of altitude sickness and respond appropriately, ensuring your well-being throughout the journey.
Customized Itineraries: We understand that each traveler is unique. We offer flexible itineraries tailored to your preferences, fitness level, and time constraints. This ensures that you get the most out of your trip.
Transparent Pricing: At Trekking Planner Nepal, we believe in transparency. Our pricing includes all relevant costs, and we provide transparent information about what is included in the package. There are no hidden fees or surprises.
Responsible Tourism: We are committed to responsible and sustainable tourism. Our practices minimize environmental impact and respect local cultures. We believe in leaving a positive footprint in the places we visit.
Exceptional Guides: Our experienced and knowledgeable guides are well-versed in the region's geography and culture and skilled in providing an engaging and informative experience. They're there to enhance your journey.
Logistical Excellence: Organizing a trip to Tibet and Nepal involves complex logistics, permits, and transportation. Our team handles all these details, ensuring a hassle-free and enjoyable experience.
Customer-Centric Approach: We prioritize our client's needs and preferences. Your comfort, safety, and satisfaction are our top priorities. Our responsive communication ensures that your questions are promptly answered and your concerns addressed.
Positive Reviews: Our satisfied clients have shared their positive experiences through reviews and testimonials. These testimonials show our dedication to providing exceptional service and creating memorable journeys.
Comprehensive Services: We offer various services, including trip planning, accommodation booking, transportation arrangements, permit processing, and guided tours. This comprehensive approach saves you time and effort.
Passion for Adventure: We are passionate about adventure and cultural exploration. Our team members deeply love the regions we operate in, and we are excited to share these experiences with you.
If "Trekking Planner Nepal" aligns with these qualities, it could be a fantastic choice for your journey to Tibet, North Everest Base Camp, and the Potala Palace. Always verify the most current information and conduct thorough research before deciding.