Trip Introduction: 11 Days Everest View Trekking-Short trek in Everest, Everest Panorama Trekking 2023/2024
11 Days Everest View Trekking Route, also known as the Everest Panorama Trek, is a short yet delightful trekking experience in the Everest Region. Suitable for trekkers of all ages with decent physical fitness, this trek takes you to the land of the legendary Sherpa community. Enjoy the unique culture, traditions, and ancient heritage of the Sherpa people. Immerse yourself in the breathtaking scenery of mountains and marvelous landscapes. Witness the glorious and ever-enchanting Himalayas. On the Everest View Trekking Route enjoys an excellent view of the world's tallest peak, Mount Everest without ascending into higher altitudes. This expedition provides the opportunity to meet the legendary Sherpa community. Furthermore, you can witness the diverse flora and fauna as well as marvel at the rich culture. This trek starts with a short flight to Lukla.
Everest Panorama Trekking 2022,2023 route starts with the exploration of Kathmandu. The capital of Nepal, Kathmandu is the cultural hub, with linkages to the medieval history of Nepal. A short flight of around 35 minutes takes us to the starting point of the trek. We land in the town of Lukla at the Tenzing Hillary Airport, an airport named after the first legendary climbers of Mt. Everest.
Trekking continues that day to the village of Phakding. Our trek continues towards the unofficial Sherpa capital of Namche Bazaar. Along the way, we traverse through the forests adorned with rhododendron, and lush vegetation and cross many suspension bridges over the torrential Dudh Koshi River before entering the Sagarmatha National Park just outside the settlement of Jorsale. Along the trek, we will encounter the unique culture of the region, marvelous views of the Himalayas, and a few challenging climbs.
We will get to see stunning views of Ama Dablam, Lhotse, Tawache, Kusum, Kangaroo, and other neighboring peaks. This area contains abundant wildlife such as the rare and endangered Himalayan Thar, Danphe, Musk Deer, and more. Further on the trail of Everest View Trekking Route, we explore the villages of Khumjung (a village with an ancient monastery known for housing the skull of a Yeti). As well as the famous Tengboche Monastery, the highest point of our trek, in the village of Tengboche.
Tengboche Monastery is the largest monastery in Khumbu Everest Region, the Tengboche Monastery is also the terminus site of the "Sacred Sites Trail Project." This project covers 10 monasteries in the region. Furthermore, the village of Tengboche is surrounded by a marvelous panoramic view of the Himalayas. After exploring we will come back on the same trail and explore the villages of Khunde, Phortse, Jorsale, Benkar, Phakding, and others before wrapping up the trek at Lukla and flying back to Kathmandu.
11 Days Everest Trek route is for trekkers with a short amount of time who want to explore the beauty of the region and experience the vastness of the Himalayas. March to May and mid-September to December are the preferred seasons for trekking. Join Nepal Trekking Planner Nepal for an enriching, delightful trek in the Everest Region with professional service and carefully planned itineraries that ensure your safety and comfort. In this trek, which can be introductory for novice adventurers, you can include your kids and elderly members for a fun and memorable experience that shall last a lifetime.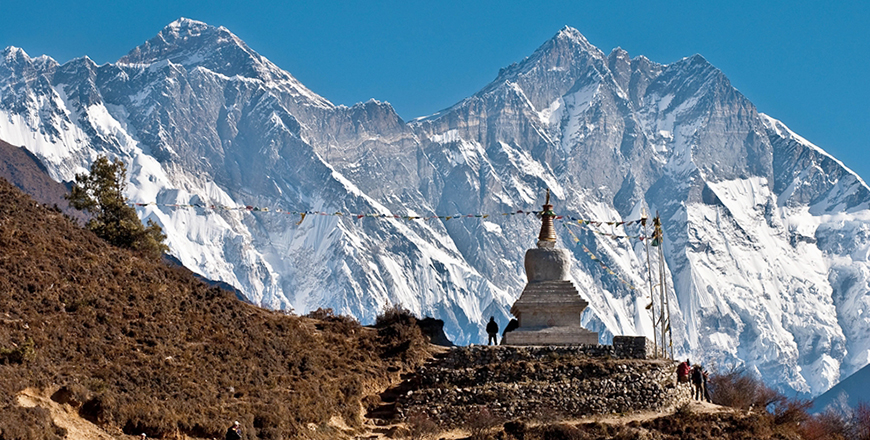 Best Seasons for Everest Panorama Trekking.
Everest Panorama Trek for nearly all months of the year, however best time is from March to May in the spring season and with mid-September till December months during autumn and pre-winter season.
March to May is lovely with enough day lights and sunshine when high hills with forests of tall trees and bushes of rhododendron will be in full bloom with other wildflowers, making this trek more interesting and special.
Most days are clear from morning till late afternoon and can get cloudy sometimes with a chance of snows around higher elevations and cold in the morning and nighttime (not adding extra wind-chill factors).
Mid-September to December during the autumn/fall season where most days are crystal clear from morning till mid-afternoon but with short daylights, much colder and freezing temperatures in the morning and night as well in shades, away from sunlight (not adding extra wind-chill factors).
Some people might be interested in trek during the low season of wet monsoon times most days are cloudy that obstructs views of peaks, encounter less and few numbers of trekkers during the rainy season of Mid June till Mid-September, but very lush and green with enough moisture that supports more oxygen to help acclimatization, days are longer with sunlight due to summer and monsoon season around Nepal and other Himalayan destinations much warmer than other seasons of spring and autumn.
Local Culture and Religion In Everest Region.
Sherpas are the natives of Everest and other higher Himalayan regions, the word Sherpa comes from the Tibetan language as East for Sher and Pa means people, where Sherpa migrated around high Himalaya of Nepal around the Mid-East and Far Eastern Himalaya range from Eastern parts of Tibet.
Way back more than 400 years of history, the Sherpa normally are farmers and livestock herdings like cows and yaks interwoven with strong Buddhism religion and fascinating cultures that you can witness walking around villages.
In every Sherpa village, one can find a monastery, some are older by more than 500 years like the monastery of Thame and Pangboche villages, where the famous monastery of Thyangboche was much older and was destroyed by a huge fire in 1991 and built its original shapes.
As you walk from one village to another where you will come across many prayer walls and religious monuments of Stupas (domes), with rows of spinning prayer wheels.
Sherpa men-folks were earlier pioneers as mountain and trekking guides and still held the post to the present.
Accommodation in Ramechap Manthali Town.
Hotels and local lodges are not up to the standard of tourist class, very basic and simply suitable for local travelers only, whereas trekkers for flights to Lukla sometimes have to bear with us if staying overnight at Manthali for a flight to Lukla or on the way back to Kathmandu.
The other option will be driving early morning by 2 a.m. in the dark to reach on time for flight departure for Lukla.
Flying back from Lukla time permitting (during morning and mid-day) can travel back to Kathmandu on time.
Please bear with us for the above sudden change of notice flight to Lukla instead from Kathmandu domestic airport will be from Manthali airport, Ramechap which will continue till the near future.
Important to know for all trekkers flying in and out of Lukla requires a minimum of two days extra from the standard itinerary provided, to cope with the present situation regarding the change of airport for flights to Lukla or towards other mountain destinations.
Climate and Weather Everest View Trek.
Himalayan climate can be unpredictable sometimes even in good best seasons, where April and May to the first week of June will be the best time during spring times when days are longer with enough sunlight hours.
Morning and night time as well in shade can be cold and much freezing temperatures around higher areas above 3,000 m.
Other months from September to November are another great time for treks around Kanchenjunga base camp and other areas of the Himalayas, when days are clear for views and to summit the top of the peak, although much colder months of the autumn season with extremely cold during morning and night time, where sunlight is much shorter.
Useful Articles related to Everest Base Camp Trek
Everest View Trekking Important Note.
This trip departs every day of the year.
This trip is fully customizable. We can customize the trip as per your need, please contact us.
This trip is available on both a Fixed Departure and a Private Group Basis.
This trip can be booked privately if you're traveling solo or privately or with family.
Have a big group? We can help as per your needs.
We can help you make it fit your budget.
We accept instant booking and online payment.