Trip Introduction: 14 Days Short Everest Base Camp Trek 2023/2024
Mount Everest's sheer presence has captivated the human race's imagination for decades. Every year, people from all over the world travel to experience the Everest Base Camp Trek. Its allure and rich history defy explanation. Every trekker's goal is to complete the world's most beautiful trek. The 14 days Everest Base Camp Trek 2023/2024 is specifically designed for adventurers who want to experience the mysteries of Everest in a short amount of time. The short Everest Base Camp trek is not difficult, but it does require a lot of patience and determination to complete.
On the 14 days Everest base camp trek, every bend, and turn in the trail offers something new and amazing to see. The adrenaline rushes, challenges, and adventure, and if you want to create lasting memories by following in the footsteps of the legends? Then join Trekking Planner's custom-designed flexible itineraries and make history.
Where does the Everest Base Camp Trek Begin? What Can I Expect?
This 14-day exclusive highly rated Everest Base Camp Trek begins and ends in Kathmandu. The trek begins with a guided and informative pre-trip discussion in Kathmandu, followed by a trans-Himalayan flight to Lukla, the trek's starting point. This 14-day journey includes daily walks in and around the Gumbas/Monastery, prayer flags, a lush forest, and mesmerizing high snowy peaks. At dusk, it's time to gather in local tea houses and enjoy warm hospitality and delectable local cuisine. Acute mountain sickness is almost always unavoidable, so our 14 days short Everest Base Camp Trekking itinerary is designed to reduce this risk. Acclimatization is essential for success in this area.
Trekking to the base camp of one of the world's tallest mountains is a fantastic accomplishment that is well worth the effort. Even so, expectations do not always match reality. Weather is one of the most difficult aspects of Everest Base Camp. The climatic situation of the base camp is completely unpredictable, changing every five minutes. Upper-class residents have devoted Buddhists. People in the region are not permitted to butcher animals due to differing religious beliefs. The intriguing thing is that they can consume flesh but cannot kill them. People should also be cautious of rock slides in the area.
Namche Bazaar is where we usually acclimate. This bustling highland town is ideal for exploring, followed by a short hike to Khumjung for a closer look at Sherpa culture and age-old traditions. Then we travel to Tengboche, a higher village with a monastery nestled in the mountains with a view of Ama Dablam. Then we proceed to Tengboche and Dingboche. The temperature drops quickly here, and the tree line is crossed by an alpine zone, followed by a mix of rock and snowy terrains. Later, we must spend the night in Lobuche before hiking to the highest human settlement, Gorakshep, the next morning. This is a place to refuel and prepare for the long journey to the glacier that leads to Base Camp. From Base Camp, the view of the glacial Khumbu Ice Fall and jagged peaks is breathtaking. This area is also known as Kalapatthar, a great spot to catch the first rays of the morning sun. You will also have an uninterrupted view of Mount Everest peaks and other surrounding high peaks from the summit of Kalapathar. Finally, on our way back to Lukla, we will take alternate routes and stay in various villages.
Is 14 Days Short Everest Base Camp Trek trip right for you?
The trek to Everest Base Camp may be difficult for beginners, but reading a description does not convey the entire adventure. Occasionally, expectations do not match reality. Everyone must attempt and muster the courage to do so. If you are healthy and active, there is no age limit for trekking to Everest Base Camp. This walk is readily completed by those aged seven to 70. Youngsters under the age of 14 who wish to hike should either visit with family members or hire porters to carry the larger goods, because the children will not be able to manage the heavy loads through tough terrain, and you don't want to have to carry all their belongings as well as your own. People in their golden years may take longer to trek since they must be more health care to complete the walk cheerfully. People who have Uric acid or respiratory problems should be cautious before embarking on a journey. Before embarking on the journey, everyone must be physically and psychologically prepared. One should work up to being able to walk or trek for 5-6 hours without stopping.
How to prepare for trekking on Everest?
Trekking on Everest demands you to be physically fit because the route is long and you will progressively descend into high elevation. To finish the journey, we must be intellectually and spiritually prepared. Warm clothing, hiking poles, a water bottle with water capsules for purifying water, UV protection rays to avoid snow blindness, and a face mask to keep your skin warm. Yoga may help you coexist with less oxygen and atmospheric pressure since it aids in breathing. Packing and double-checking all of your required equipment Taking more medications if you are unwell.
What Is the Best Period to Visit Everest Base Camp?
In general, the best seasons for Everest Base Camp Trek are from mid-September to mid-December in autumn and from March to May in spring. During this time of year, the weather is clear and stable, providing the best opportunity for spectacular views. However, the nights can be very cold, especially at higher elevations, and it is strongly advised to bring a sleeping bag to keep you warm and cozy throughout the trek. More weather-related risks exist during the winter months of December to February, as well as during the summer months of June and July. All things considered, April might be the best month to trek to Everest Base Camp. The month falls in the middle of spring and the weather is as nice as it can get in the Himalayas.
How difficult are the 14 days Short Everest Base Camp Trek? Can I do it?
The 14 days Short Everest Base Camp Trek is for everyone; it is doable with a little planning and determination. The best part about this trek is that no advanced technical skills are required. The only requirement is the endurance to walk for long periods with many up-and-down climbs.
Its altitude is what makes it particularly difficult. This can sometimes result in severe mountain sickness while trekking. As a result, properly acclimatizing your body before your next altitude attempt is critical. Keep hydrated and walk at a slow pace. However, with adequate rest and a slow pace, the distance can be safely covered. Your Trekking Planner guide will be with you every step of the way.
Optional Activities to do in Kathmandu Before or After Your 14 Days Trek to Everest Base Camp?
We provide a variety of options for you to choose from during your time in Kathmandu. These opportunities allow you to immerse yourself in the traditional way of life and culture. You have the option of visiting Kathmandu city tours, an old-age home, ethnic cooking classes, a yoga session, an orphanage, or a community school. These exciting options will provide you with a unique perspective and a memorable experience while in Nepal.
Outline Itinerary- 14 Days Everest Base Camp Trek
Day 01: Arrival in Kathmandu and trip preparation, 1,350m/4,429ft
Day 02: Fly to Lukla, 35 min flight and trek to Phakding, 2,830m/9,187ft, 3-4 hrs walk
Day 03: Trek from Phakding to Namche Bazaar, 3,438m/11,280ft, 5-6 hrs walk
Day 04: Acclimatization Day in Namche Bazaar, 3,438m/11,280ft
Day 05: Trek from Namche Bazaar to Tengboche, 3,870m/12,697ft, 5-6 hrs walk
Day 06: Trek from Tengboche to Dingboche, 4,360m/14,305ft, 5-6 hrs walk
Day 07: Dingboche, Acclimatization, 4,360m/14,305ft
Day 08: Trek from Dingboche to Lobuche, 4,940m/16,208ft, 5-6 hrs walk
Day 09: Trek from Lobuche to Gorak Shep, visit Everest Base Camp, 5,364m/17,599ft, 6-7 hrs walk
Day 10: Trek from Gorak Shep to Kala Patthar to Pheriche, 5,545m/18,193ft, 7-8 hrs walk
Day 11: Trek from Pheriche to Namche Bazaar, 3,438m/11,280ft, 6-7 hrs walk
Day 12: Trek from Namche Bazaar to Lukla, 2,800m/9,187ft, 6-7 hrs
Day 13: Fly to Kathmandu, 1,350m/4,429ft, 35 min flight
Day 14: Final departure
Important Note
Every day of the year, trip departures are available.
This trip can be completely customized. Please contact us if you want to customize the trip.
This trip is available on a fixed departure basis as well as a private group basis.
If you are traveling alone or with your family, you can book this trip privately.
We also provide only guide and porter service, please contact us
Have a large group? We can meet all your requirements.
We can work with you to make it affordable.
We accept online payments and instant bookings.
If you are an Indian passport holder the cost will be INR 86500.00 per person
Weather and Climate (Everest Base Camp)
Even during the best seasons, the Himalayan climate can be unpredictable. April and May to the first week of June will be the best months in the spring because the days will be longer and there will be more sunlight hours.
Morning and night-time temperatures can drop below freezing in areas higher than 3,000 meters.
The autumn season, from September to November, is another great time for treks around Everest base camp and other areas of the Himalayas. Days are generally clear with great views, and it is a good time to summit the top of the peak, though it is much colder in the autumn season, with extreme cold during mornings and nighttime, when daylight is much shorter.
Everest base camp area-Local Culture and Religion
Sherpa is the indigenous people of Mount Everest and other higher Himalayan regions; the term "Sherpa" is derived from the Tibetan language. Sher means east and Pa means people, and the Sherpa migrated from Eastern parts of Tibet to the high Himalayas of Nepal around the Mid-East and Far Eastern Himalayas ranges.
For more than 400 years, the Sherpa have been farmers and herders of livestock such as cows and yaks. Their strong Buddhist religion and fascinating cultures are intertwined, which you can see while walking around the villages on your trek.
Every Sherpa village has a monastery, some of which are over 500 years old, such as the "monastery of Thame and Pangboche villages." The famous Thyangboche monastery was much older, but it was destroyed by fire in 1991 and has since been rebuilt to its original design.
As you walk from village to village, you will pass many prayer walls and religious monuments such as Stupas (domes) with rows of spinning prayer wheels. All of this contributes to your journey's authentic cultural experience.
Sherpa men were the first mountain trekking guides, and they continue to attract many visitors each year.
14 Days Everest Base Camp Trek-Travel Insurance
Trekking Planner Nepal strongly advises and recommends that all clients purchase Travel and Medical Insurance in case of unforeseen circumstances during their Himalayan vacation. World Nomads Travel Insurance can provide Travel and medical Insurance for your upcoming holiday in Nepal Himalayan destinations.
All our hikes, trekking, and tour programs have itineraries where accommodation is set with respective Hotels / Lodge / Home Stay, Guest House, and Resorts, as well as camping in some remote areas. However, depending on the fitness of the clients, the availability of vehicles on time, flight delays, cancellations, unfavorable weather, and road or trail conditions, some days may be longer or shorter. Trekking Planner requires clients to purchase Travel and Medical Insurance at the time of booking. All tours and treks require this. Insurance should include adequate coverage for the duration of the tour/trek to cover personal injury, death, medical expenses, and repatriation expenses in any mode of transportation on emergency evacuation, such as helicopter rescue or air ambulance, as well as baggage coverage.
In extreme cases, your chosen tour destination may differ from the program itineraries. In extreme cases, we may be forced to reroute or cancel the trip due to political issues, riots, bad weather, damaged roads, poor trail conditions, or the situation and condition of the porters. The company reserves the right to cancel the trip due to unavoidable circumstances beyond our control, such as if the number of travelers is lower than expected for the trips selected. Please bear with us in this case, and we will do our best to adjust the itinerary for the trip to the best of our ability for your convenience.
Accommodation facilities in Everest base camp Trekking
All our hikes, trekking trails, and tour programs follow itineraries that include lodging in hotels, lodges, homestays, guest houses, and resorts. Camping in some remote areas is done according to the itinerary. Some trails may take longer or shorter depending on the fitness and pace of the clients, vehicle availability, flight delays or cancellations, unfavorable or bad weather conditions, roads, or trails.
As an underdeveloped country, when we go up in the Himalayan region, the vegetation and density of local people decrease, which is one of the main reasons why we sometimes must compromise for the best services. However, because this is a tourist route, most amenities are still available, though some may necessitate a compromise. For example, 24-hour electricity, laundry services (due to a lack of warmth and sunlight), internet, fruits, hot showers, toilet commode, room quality, and availability (standard quality rooms are found which are designed for meeting the basic requirements). However, the trekking planner team makes every effort to provide the best available services and facilities.
Acclimatization and Communication on Everest base camp Trek
Adapting to nature, temperature, climate, traditions, cultures, and food is one of the most important factors in completing and enjoying the journey. As we plan our itineraries, we always keep in mind that we should not ascend more than 800 meters in a single day. Doing so may cause altitude mountain sickness and breathing difficulties. However, if we slow down and include stops along the way, we are assisting our bodies in adapting to changes in temperature, weather, and climate.
We are not going on a trek to walk all the time, and hiring a guide does not imply that he or she is leading and you are just following, but asking questions about the local people, their way of life, traditions, and culture is a good way to learn more about the traditions and cultures of the place we are visiting.
Sometimes foods and beverages must be avoided because they cause physical and mental stress, resulting in diarrhea, constipation, headaches, anger issues, a sense of mistreatment, and a lack of services. So, before embarking on a trek and inquiring about available accommodations, visitors should always specify which foods and beverages they are allergic to or do not consume, as this will assist in developing a plan B for food and beverages.
Electricity, Internet, and Battery Recharge: - Everest base camp Trekking
As a developing country, facilities related to electricity are not available in some regions, and even if they are available, load-shedding and electricity shortages may occur due to natural or artificial causes. Carrying a power bank is recommended for charging the batteries of cell phones, cameras, flashlights, and other devices.
Some places charge extra fees to recharge the battery because they buy or use electricity from outside sources. Generators, solar panels, and even private hydropower are examples.
Because of the electricity as well as the private poles and the amount of money that the locals must invest heavily on poles, wires, and internet service providers, the internet requires a certain amount of payment but varies from place to place and is not applicable everywhere.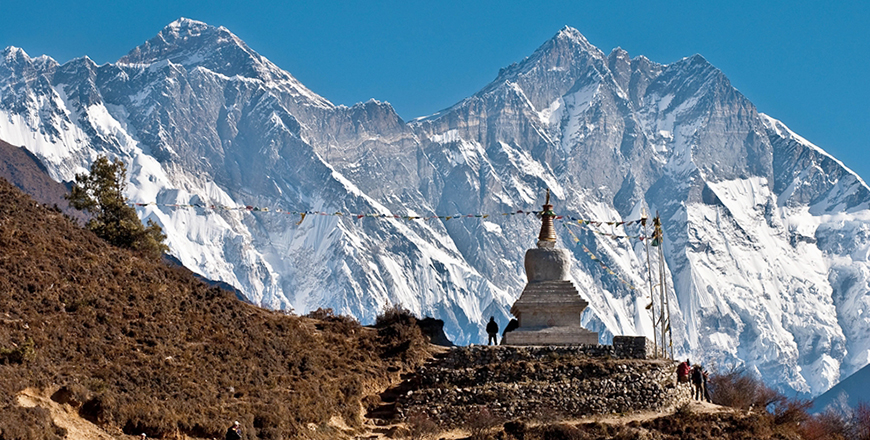 Altitude Mountain Sickness (AMS)
Anyone is susceptible to Mountain Altitude illness. The drop in air pressure at high altitudes makes breathing difficult owing to a lack of oxygen. It mostly occurs over 3300m (10,000ft).
The following are the signs and symptoms:
Headache/Dizziness
Nausea/Vomiting
Tiredness/Fatigue
Tired yet unable to sleep
Appetite loss
Anger/Stress
The best way to avoid AMS is to dress appropriately for the weather, drink enough of water, eat healthily, and move slowly. If the body is not feeling well, it is a good idea to ask for rest or sleep. Keep hydrated and follow the tour leader's instructions and advice regarding altitude mountain sickness.
Washing and Toilet facilities on the Everest base camp trek
All guest homes have hot showers, which may be in the form of a shower stall or a pail of hot water. Please keep in mind that there may not be enough hot water for all hikers at high elevations. For environmental reasons, limit the usage of hot water unless it is solar-heated. Every lodge has a washing machine, but you must provide your soap. If the water is frozen, simply request that your guide bring you a bowl of warm water.
Toilets are mostly squat toilets in the Asian design. The restrooms are located outside of your room. You're in the mountains, so cleanliness may vary. It is not acceptable to flush toilet paper. Instead, use the trash can located inside the restroom.
Useful Articles related to Everest Base Camp Trek